New from judywhite, author of the award-winning book on orchid growing culture
Taylor's Guide to Orchids:
Bloom-Again Orchids
Buy in the USA
Buy in the UK
50 Easy Care Orchids That Flower Again & Again & Again
Text & Photography by judywhite (Timber Press, November 2009. $14.95)
So what are some of judywhite's favorite orchids to recommend as easy to grow and wildly worthwhile?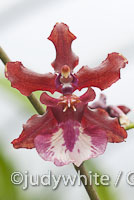 "On nearly anyone's top ten list would be the "Chocolate Orchid" - so dubbed because the fragrance is fantastic - like hot chocolate and vanilla," she says. "Its technical name is Oncidium Sharry Baby. Sharry Baby's orchid culture is easy and adaptable, and it can have hundreds of little red and white blooms for months at a time! The commonest variety is called 'Sweet Fragrance' (seen at left). It also comes in a three-colored form called 'Tricolor', in red, white and yellow, which I think is even nicer."
Give Sharry Baby a southern window with morning light, water it once or twice a week, and weekly orchid fertilizer, and people will be trying to steal it, she warns.
Another fabulous choice is the starry-bloomed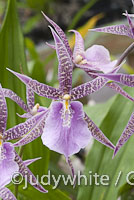 Miltassia Charles M. Fitch, an old hybrid that has stood the test of time. "It's looks kind of like a leopard with its spots," says judywhite, "but in lavender!"
Again, this is an easy-to-grow orchid, but with flowers that can reach 5 inches (13 cm) long. It can sit right alongside Oncidium Sharry Baby, with just about the same conditions. Pictured at right is the variety Miltassia Charles M. Fitch 'Izumi'.
"But don't forget the most popular and easiest-to-buy orchids of all, which are the Phalaenopsis Moth Orchids," advises judywhite. "Even though they are everywhere, there's a wonderful reason for that - they are flat out the easiest orchids for most people to grow, and can keep blooming for six months or more at a time."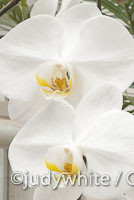 Give Phals an eastern window, so that they get enough light that the leaves are "kind of a grassy green, rather than dark and lush looking", she says. "That'll mean they are in enough light to bloom. Orchids have this habit sometimes of growing just fine but not sending up any flowers - and the classic reason is that they're not in enough light. If yours don't bloom, move them somewhere else!"